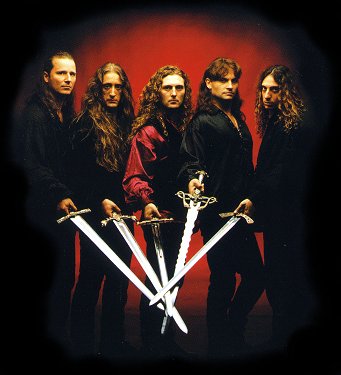 RHAPSODY In FIRE
(sebelumnya dikenal sebagai Thundercross, Rhapsody) adalah Group band symphonic power metal dari Trieste, Italia, yang dipimpin oleh Luca Turilli dan Alex Staropoli. Sejak terbentuk di tahun 1993, band ini telah merilis delapan album studio, satu album live, satu EP, dan DVD live.
ANGGOTA BAND:
* Fabio Lione - Vocals
* Luca Turilli - Guitar
* Alex Staropoli - Keyboards
* Patrice Guers - Bass
* Alex Holzwarth - Drums
MANTAN ANGGOTA:
* Cristiano Adacher - Vocals
* Andrea Furlan - Bass
* Alessandro Lotta - Bass
* Daniele Carbonera - Drums
TAMU ANGGOTA:
* Dominique Leurquin - Rhythm guitar (studio and live guest)
* Sir Jay Lansford - Narration, 1997 to 2002
* Christopher Lee - Narration The Magic of the Wizard's Dream, Unholy Warcry, Triumph or Agony and "The Frozen Tears of Angels". Additional vocals on The Magic of the Wizard's Dream.
* Thunderforce - Drums, 2000-2002
* Sascha Paeth - Bass on Legendary Tales and Power of the Dragonflame
* Robert Hunecke-Rizzo - Bass on Legendary Tales
* Brandon Lavigne - Tin Whistle on Dawn Of Victory
DAFTAR MP3 ALBUM By RHAPSODY IN FIRE
(
FREE DOWNLOADS
)
RHAPSODY of FIRE - 1997 - Legendary Tales
Tracklist:
1. Ira Tenax
2. Warrior Of Ice
3. Rage Of The Winter
4. Forest Of Unicorns
5. Flames Of Revenge
6. Virgin Skies
7. Land Of Immortals
8. Echoes Of Tragedy
9. Lord Of The Thunder
10. Legendary Tales
Download Full Album via Mediafire
RHAPSODY of FIRE - 1998 - Symphony of Enchanted Lands
Tracklist:
01: Epicus Furor
02: Emerald Sword
03: Wisdom Of The Kings
04: Heroes Of The Lost Valley
05: Eternal Glory
06: Beyond The Gates Of Infinity
07: Wings Of Destiny
08: The Dark Tower Of Abyss
09: Riding The Winds Of Eternity
10: Symphony Of Enchanted Lands
Download Full Album via Megaupload
RHAPSODY of FIRE - 2000 - Dawn of Victory
Tracklist:
01. Lux Triumphans
02. Dawn of Victory
03. Triumph for my Magic Steel
04. The Village of Dwarves
05. Dargor Shadowlord of the Black Mountain
06. The Bloody Rage of the Titans
07. Holy Thunderforce
08. Trolls in the Dark
09. The Last Winged Unicorn
10. The Mighty Ride of the Firelord
Download Full Album via Mediafire
RHAPSODY of FIRE - 2001 - Rain of a Thousand Flames
Tracklist:
01. Rain of a Thousand Flames
02. Deadly Omen
03. Queen of the Dark Horizons
04. Tears of a Dying Angel
05. Elnor's Magic Valley
06. The Poem's Evil Page
07. The Wizard's Last Rhymes
Download Full Album via Mediafire
RHAPSODY of FIRE - 2002 - Power of the Dragonflame
Tracklist:
01. In Tenebris
02. Knightrider of Doom
03. Power of the Dragonflame
04. The March of the Swordmaster
05. When Demons Awake
06. Agony is my Name
07. Lamneto Eroico
08. Steelgods of the Last Apocalypse
09. The Pride of Tyrant
10. Rise from the Sea Flames (bonustrack)
11. Gargolyes, Angels of Darkness
Download Full Album via Mediafire
RHAPSODY of FIRE - 2004 - The Dark Secret (EP)
Tracklist:
01. Unholy Warcry (Short Version)
02. Thunder's Mighty Roar
03. Guardians of Destiny
04. Sacred Power of Raging Winds
05. Non Ho Sonno
Download Full Album via Mediafire
RHAPSODY of FIRE - 2004 - Symphony of Enchanted Lands II: The Dark Secret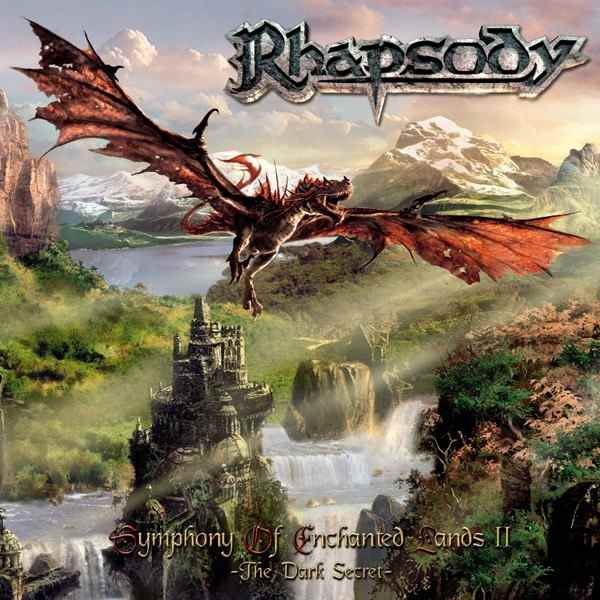 Tracklist:
01. The Dark Secret (Ira Divina)
02. Unholy Warcry
03. Never Forgotten Heroes
04. Elgard's Green Valleys
05. The Magic of the Wizard's Dream
06. Erian's Mystical Rhymes
07. The last Angels Call
08. Dragonlands River
09. Sacred Power of Raging Winds
10. Guardiani del Destino
11. Shadows of Death
12. Nightfall of the Grey Mountains
Download Full Album via Mediafire
RHAPSODY of FIRE - 2006 - Triumph or Agony
Tracklist:
01. Dar-Kunor
02. Triumph or Agony
03. Heart of the Darklands
04. Old Age of Wonders
05. The Myth of the Holy Sword
06. Il Canto del Vento
07. Silent Dream
08. Bloody Red Dungeons
09. Son of Pain
10. The Mystic Prophecy of the Demon Knight
11. Dark Reing of Fire
12. Defenders of Gaia
13. A New Saga Begins
Download Full Album via Mediafire
RHAPSODY of FIRE - 2010 - The Frozen Tears of Angels
Tracklist:
01. Dark Frozen World
02. Fate Of Sea
03. Crystal Moonlight
04. Reign Of Terror
05. Danza Di Fuoco E Ghiaccio
06. Raging Starfire
07. Lost In Cold Dreams
08. On The Way To Ainor
09. The Frozen Tears Of Angels
Bonus Tracks:
10. Labyrinth Of Madness
11. Sea Of Fate (Orchestral Version)
Download Full Album via Mediafire